July 2019, Butter Beans Named Employer of the Year by The Hope Program!
April 2019, Hunter College NYC Food Policy Center, Transforming School Lunches by Providing Nutritious Meals and After School Cooking Classes
August 2018, News Channel 12 Brooklyn, Back to School Spotlight on Butter Beans Food & Garden Summer Camp
October 2017, FabGabBlog, Cooking with Butter Beans Kitchen in Battery Park City
May 2017, Tasting Table, 4 Amazing Summer Cooking Camps Your Kids Will Love
May 2017, Farm-to-Table Cooking Classes, recommended by Time Out New York
May 2017, FiDi Families, headlined on Mother's Day Downtown Weekend Roundup
January 2017, GreenCandy: Deliciously Healthy Living – Welcome Butter Beans!
September 2016, NY Post, Inside the UN's exotic garden on the East River
May 2016, NY Post, After-school workshop teaches kids through cooking
February 2016, Chicago Tribune, This School Lunch Lady Has A Better Way
January 2016, Inc.com Meet The Entrepreneur Behind Healthier Food Fights: Butter Beans serves a niche that couldn't access school lunches before 
November 2015, Edible Brooklyn, How 2 Brooklyn Moms Are Reinventing School Lunch: Butter Beans serves up from-scratch meals, cooking classes and farm-to-table camps for Alice Waters acolytes
November 2015, Dartmouth Alumni Magazine Pursuits, Kelly McGlinchey cultivates the next generation of healthy food leaders
August 2015, Inc 5000 2015 List
May 2015, NYMetroParents, June Print Issue, Summer Fun Feature
March 2015, NYMetroParents, 5 Fun Summer Gardening Activities to Do with Kids
March 2015, FiDi Families, Things To Do In Lower Manhattan
March 2015, NYU Entrepreneurs Festival, Belinda DiGiambattista speaks on the panel Social Ve
ntures: From Idea to Impact
February 2015, Time Out Kids Cooking Camps For Kids
December 2014, Belinda DiGiambattista presents at the Institute of Culinary Education's Culinary Management Class
November 2014, Butter Beans talks about food literacy with chef Tom Colicchio minute 30
October 2014, Butter Beans talks about expanding palates with with Stanley Tucci minute 20
October 2014, Butter Beans talks about food policy with chef Mario Batali minute 15 & 24
August 2014, Park Slope Parents Summer Camp Review
April 2014, Food Systems Network NYC
April 2014, Brooklyn Mamas "Butter Beans Food & Garden Summer Camp: A Seed-to-Table Journey in Food"
April 2014, Healthylicious Bliss and Kristin Hurley "Healthylicious kids in the big city: Fun foodie activities to do with your kids in NYC"
August 2013, Brooklyn Mamas 100 "Classes for Kids in Brooklyn"
Spring/Summer 2013, Stern Business "Off To A Strong Start"
October 2012, guest blog for foundhealth.com "5 Steps for Packing Your Kids a Healthy School Lunch"
September 2012, New York Observer "Hot Lunch Gets Hotter"
Carol Murko from Heirloom Meals interviews Belinda Di Giambattista, click here to listen
July 2012, Grist.org Playing with their food: Kids discover the fun of farming at camp
June 2012, Foxnews.com Food Focused Summer Camp For Kids
June 2012, Edible Brooklyn Notable Edibles, A Day Camp for Hungry Minds
May 2012, Time Out Kids Our parent & child seasonal spanish cooking class was mentioned in their guide to Farm Fresh Outings
May 2012, Clean Plates Butter Beans Grow in Brooklyn: Refreshing Healthy Kids Programs
May 2012, Mommy Poppins Farm to table: Hands on Planting and Harvesting Summer Camps for NYC Kids
April 2012, Mommy Poppins New York Summer Camp Guide
March 2012, Time Out Kids Special Interest Camps
March 1, 2012 Butter Beans Food & Garden Summer Camp 2012 mentioned in the New York Times Diner's Journal by Glenn Collins.
February 28, 2012 Butter Beans Food & Garden Summer Camp 2012 highlighted in Manhattan User's Guide newsletter and services section.
October 23, 2011 – MSNBC's Your Business with JJ Ramberg featuring Butter Beans, interviews Co-Founder and CEO Belinda DiGimabattista:
It's not easy for a small business to distinguish itself from a much larger competitor, but that doesn't mean you should go down without a fight. One entrepreneur quickly learned there is a way to steer customers away from bigger companies. In order to do that, she needed to make a good impression from the start.
Check out the link to see our lunch service in action: http://www.openforum.com/videos/american-business-impress-your-customers
0 Comments and 3 Reactions | July 18, 2011 | By Cheryl Chan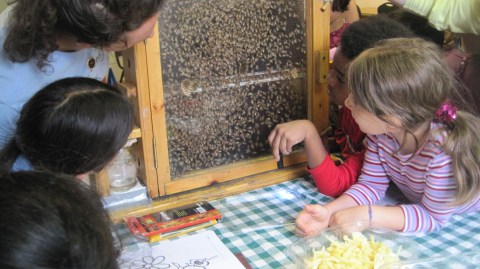 Ask a city-bred kid for their image of a farmer, and they will most probable conjure up Old MacDonald, says Felicia Desrosiers, co-founder of Butter Beans, a company that provides seasonal and locally sourced nutritious lunches to schools. But at Butter Beans' two-week Food and Garden Summer Camp August 1 through 15, Desrosiers aims to dispel that notion by introducing 7- to 12-year-olds to the varied guises of modern urban farming through educational visits to local farmers' markets and rooftop farms and visits with bee-keepers and chocolate-makers.
Desrosiers, a certified holistic health counselor from the Institute for Integrative Nutrition who also manages a holistic health and nutrition counseling practice, is enthusiastic that her food camp "gets children engaged with their food and where it comes from."  A day camp for budding educated foodies, in other words, the Food and Garden summer camp aims "to inspire the next generation of Alice Waters, Jamie Olivers and Michelle Obamas," says Desrosiers, through hands-on exposure.
The first week of the session is focused around the growing cycle: Campers learn about composting at the Lower East Side Ecology Center in the community garden on East 7th Street; chicken-rearing at The Brooklyn Grange, a rooftop farm in Queens; planting and harvesting vegetables at Eagle Street Rooftop Farm in Brooklyn, and the pollination process with bee keepers from the NYC Beekeeping Association. In July sessions, says Desrosiers, the kids gamely donned bee suits and got up close to the hives, then sampled different varieties of honey.
The second week delves into sustainable production practices with visits to Murray's Cheese caves, a tour of Mast Brothers Chocolate in Brooklyn, and a visit with The Compass Green Truck, a moving garden truck that runs on vegetable oil and teaches youngsters about the sustainable mobile greenhouse.
Everyday, the kids make their own lunches from produce they selected at the farmer's market. In addition, the children talk to the farmers and growers of their lunch directly.  They are given a budget and a nutritional framework of "what makes a healthy plate" says Desrosiers. "At the market, we have a team that goes out looking for roots, a team that looks for leaves, a raw team that sources raw vegetables that are crunchy and raw," she enthuses, "and we make sure that we have protein covered."
Last Tuesday's lunch consisted of homemade salsa and corn chips, golden-eyed beans, rice, sautéed kale and garlic with olive oil, and a colorful salad sprinkled with paneer cheese the kids learnt to make from a session with Murray's. (They boiled whole milk, added vinegar to the mix and squeezed it through a cheese cloth.)
The next Butter Beans session runs from August 1 through 15. Classes run from 9 a.m. to 4 p.m. with drop off and pickup at the Lafayette Avenue Presbyterian Church at 85 South Oxford Street in Fort Greene.  (Early and after care is available, as is a Manhattan drop off and pick up.) The cost is $115 per day and includes daily lunch, snack, camp t-shirt, transportation during the day  and materials, and Butter Beans is currently offering a 25 percent discount. Sign up here, check out their blog, and feel free to email Felicia@ButterBeansKitchen.com for more details or call 718.499.0010 for details.
May 20, 2011, For immediate release:
We at Butter Beans are excited to announce a fantastic seed to table experience for kids ages 7-12!
Our Food & Garden Summer Camp takes kids through our food chain system with  daily visits to urban gardens, rooftop  farms,  parks and green markets.  Kids connect with sustainable merchants and  farmers, master composters,    local chocolate makers and  beekeepers. They buy local food, cook a delicious  lunch (honing their chopping and cooking skills), make pickles, jams, ice cream and  more- all while enjoying the best of summer outside.
Sample schedule:
9am Check in and Welcome circle
9:15am Leave for Greenmarket
9:45-10am Snack and plan shop
10-11am Talk to farmers, work within a budget, buy lunch ingredients
11:30-1pm Make and eat lunch
1-2:30pm Grange rooftop farm tour + berry harvest
3-4pm Make jam
When: July + August 2011. Camp sessions run daily from 9:00 am to 4:00 pm. Early  8:00am-9:00am and after-care 4:00pm to 5:00pm, is available upon request.
Cost per session breaks down to $115/day and includes daily lunch, snack, camp t-    shirt, transportation, and all materials.
Where: Base camp is in Fort Greene/Boerum Hill, Brooklyn, NY (Manhattan drop-off  point available). Campers  travel daily to parks, rooftop farms, and farmers markets.  See our website for details and call 718.208.4051 to reserve your spot.
ABOUT Butter Beans:
During the school year, Butter Beans offers age-appropriate lunch programs for lower,  middle and high schools using the freshest, most local and seasonal food possible. In  collaboration with the schools' administrators and students, we create delicious meals  with whole grains, legumes, and veggies, healthy fats, and naturally raised meat and  poultry. Additionally, Butter Beans meals are balanced with fun health facts in the  cafeteria to help students learn how food is good for their bodies and brains. Butter  Beans Food & Garden Summer Camp grew out of the success of our cooking classes  and our 2011 Spring Break Food & Garden Camp.
OUR VISION:
We at Butter Beans believe that this generation of kids will play an essential role in  reconnecting our country with its food and the culture behind it. Kids are our future  farmers, food policy makers, chefs, community leaders, and home dinner makers.  Food  and farming can be incredibly fun and exciting for kids, and can help them make  better,  more informed and more adventurous food choices going forward into  adulthood. Seeing  firsthand the work that goes into growing the carrot they eat, or  how much effort goes  into composting and nourishing the soil to grow the apples or  pears that they love, will  help them better connect with the food on their plates. In  our Food & Garden Summer  Camp, students have fun learning through experience  about the food chain. Kids see and  appreciate how much better things taste when  them make them themselves and know  exactly what is put into them. We can change  the future of food in America with our  kids, and have a great time doing so. We hope  you will join us.
Sincerely,
Butter Beans


718.499.0010
May 2, 2011 NY Daily Post – Education section:
May 1, 2009
NYU Stern School of Business and the Berkley Center for Entrepreneurial Studies awarded Butter Beans, Inc. the top prize in the 2009 annual Business plan competition.
May 17, 2009
MSNBC's Your Business segment on Wave of the Future features Butter Beans with an interview with Belinda Di Giambattista June 7, 2009
Crain's New York Business newspaper reports on Butter Beans
June 18, 2009
BusinessWeek article features Belinda Di Giambattista of Butter Beans.
Jobless MBAs Opt for Entrepreneurship September, 2009
New York Family Magazine looks to Butter Beans Felicia Desrosiers, Director of Wellness, for back to school lunch tips.
December, 2009
FoxBusinessLive Web Show interviewed Belinda Di Giambattista  on their live web show.